The ever-so-talented
Miss Crayola Creepy
is hosting a sewing challenge for May 2013: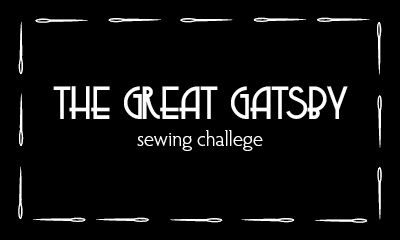 As I'm in the need of a flapper dress (I haven't totally given up on fixing
this one
, but I'm not really looking forward to it: it won't be very flattering in any case), I decided to join. I'm not so excited about the movie, although I do want to see it, but I am excited about this challenge! This will be my first ever sewing challenge... We'll see how it goes. At least I'm very enthusiastic.
I have a problem with 20s style, so it took me awhile to find a pattern. I love the style, but the straight dress just doesn't look that great on me, 50s style is definitely more flattering on my figure. But I have looked at so many historical 20s dresses that I can say, that even though the majority was straight with a low waist that look better on an androgynous figure, there were also more fitted flapper dresses, like these:
Joan Crawford models a flapper dress.
Actress Juliette in Flapper Style Dress Date Photographed: ca. 1920s
So, this was my idea when looking for a pattern. I'm not great at seeing the possibilities of a pattern that has been styled very differently yet (I'm working on it...), but then I found this pattern from
Sew-n-Sew
:
So, I decided to get it. It wasn't the cheapest one, and I'm sure I could've found something similar with less money, but if I want to finish by the end of May, I need to decide on something. I'm quite slow at sewing and I make a lot of mistakes I need to correct, so I don't want to end up rushing this. And I really want to try to finish on time. But I'm happy with the pattern (at least for now), I just want longer fringe, like in the dress actress Juliette is wearing. This might be a challenge, though. I didn't find fringe I liked when I was doing the first charleston dress, so I hope my luck will change.